Music And Critical Editions Of Music
Demetrio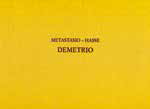 Libretto by Pietro Metastasio
Music by Johann Adolf Hasse
Facsimile edition of the score; edition of the libretto by Francesca Menchelli-Buttini; introductory essays by Reinhard Strohm and Francesca Menchelli-Buttini.
Drammaturgia musicale veneta, 17
Ricordi, Milan, 2014
The present volume is devoted to Demetrio, as produced at Venice, in 1732, with music by Johann Adolf Hasse to a libretto by Pietro Metastasio. A facsimile reproduction of the manuscript of the score preserved at the Biblioteca Nazionale Marciana, Venice, is accompanied by a transcription of the libretto based on the example preserved at the Biblioteca Nazionale Braidense, Milan, with the addition of a "Note on the text", plus two introductory essays dealing with the opera and its historical-musical context. The first, by Reinhard Strohm, gives an account of the subject and of previous theatrical and literary treatments of the libretto, sheds light on Metastasio's intentions by commenting on the most relevant dramatic situations, and analyses the score, evaluating the choices and duties of the composer. The second essay, by Francesca Menchelli-Buttini, examines the other masterpieces of the same time, Artaserse (1730) and Alessandro nell'Indie (1736), introducing a comparison with parallel compositional solutions found in Hasse's operas of similar date.