Music And Critical Editions Of Music
Il novello Giasone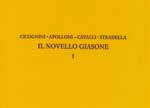 Libretto: Giacinto Andrea Cicognini – Giovanni Filippo Apolloni
Music: Francesco Cavalli – Alessandro Stradella
Facsimile edition of the score and edition of the librettos by Nicola Usula; introductory essays by Fausta Antonucci, Lorenzo Bianconi and Nicola Usula.
Drammaturgia musicale veneta, 3
Ricordi, Milan, 2013
Having sailed with the Argonauts into the Black Sea, Jason, the Thessalian hero, arrives at Colchis; instead of searching for the Golden Fleece, he has been dating an unknown beauty at night for a year: this is Queen Medea, who finally, using her magical powers, will aid him in his perilous enterprise. Except that, on these remote shores Hypsipyle has also disembarked. She is Queen of Lemnos, whom Jason had seduced and made pregnant at an earlier stage of his voyage: she comes to reclaim her rightful spouse, the father of her children. This is the starting point (more erotic than heroic) of the Giasone of Giacinto Andrea Cicognini and Francesco Cavalli (Venice 1649), the most widely circulated and acclaimed opera of the century, retouched in text and music twenty years after the Venetian premiere, by Giovan Filippo Apolloni and Alessandro Stradella (Rome 1671), newly entitled Il novello Giasone. In anticipation of a critical edition of Cavalli's original version, "Drammaturgia musicale veneta" now presents in facsimile the score of this Novello Giasone, preserved in Siena. In the first of two introductory essays, Fausta Antonucci and Lorenzo Bianconi reconstruct the bizarre mosaic of classical sources and modern Spanish dramas (Lope de Vega) hiding behind the syncretism of Cicognini's mocking libretto. In the second essay, Nicola Usula illustrates the rationale for the alterations made to Cavalli's opera by its Roman revisers, offering as well a synoptic edition of the first libretto of Giasone, printed in 1649 (and hitherto unpublished), and of that published in Rome in 1671.